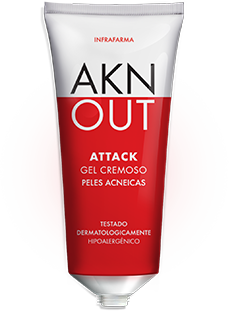 ATTACK
GEL CREAM
SKINS WITH ACNE
PACKAGE:
ATTACK
GEL CREAM FOR SKINS WITH ACNE
40ml 1.35 fl.oz
€ 16,40

CLEANSING GEL
NEUTRO
PACKAGE:
CLEANSING GEL
NEUTRO
300ml
€ 13,39
CREATED, DESIGNED AND PRODUCED IN PORTUGAL
PRODUCT CREATED, DESIGNED AND PRODUCED IN PORTUGAL. INFRAFARMA SCIENTISTS STUDIED AND DEVELOPED A PATENTED FORMULA FOR AKNOUT. THE SAFETY AND EFFECTIVE TESTS WERE MADE IN PORTUGAL IN A RESEARCH CENTER DUE ACCREDITED, COMPLIANCE WITH THE RULES OF GOOD CLINICAL PRACTICE (BY GENERAL PRINCIPLES AND RECOMMENDATIONS INTERNATIONAL 01/05/1996 AND THE GENERAL PRINCIPLES OF LAW 46/2004 OF PORTUGUESE 19 AUGUST) AND WITH THE STANDARD PROCEDURES BUSINESS CERTIFIED WHO DEVELOP STUDIES FOR COSMETIC AND PHARMACEUTICAL INDUSTRY.

The AKNOUT ATTACK IS A SUPPORTING IN FAST AND EFFECTIVE ACNE COMBAT FOR EARLY AND MEDIUM STAGES WITH VISIBLE RESULTS IN JUST 15 DAYS.