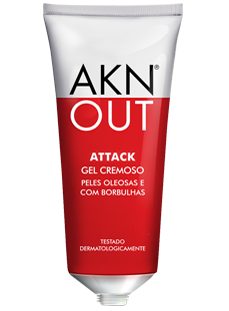 ATTACK
GEL CREAM
BLEMISH PRONE SKIN
PACKAGE:
ATTACK
GEL CREAM FOR OILY AND BLEMISH PRONE SKINS
40gr 1.35 fl.oz
€ 14,76

CLEANSING GEL
NEUTRAL
PACKAGE:
CLEANSING GEL
NEUTRAL
300ml
€ 13,39
CREATED, DESIGNED AND MANUFACTURED IN PORTUGAL
PRODUCT CREATED, DESIGNED AND PRODUCED IN PORTUGAL. AKNOUT COSMETICS SCIENTISTS STUDIED AND DEVELOPED THE AKNOUT FORMULA. THE SAFETY AND EFFICACY TESTS WERE MADE IN PORTUGAL IN A RESEARCH CENTRE DULLY ACCREDITED, COMPLIANCE WITH THE RULES OF GOOD CLINICAL PRACTICE (BY GENERAL PRINCIPLES AND RECOMMENDATIONS INTERNATIONAL 01/05/1996 AND THE GENERAL PRINCIPLES OF LAW 46/2004 OF PORTUGUESE 19 AUGUST) AND WITH THE STANDARD PROCEDURES BUSINESS CERTIFIED WHO DEVELOP STUDIES FOR COSMETIC AND PHARMACEUTICAL INDUSTRY.

The AKNOUT ATTACK IS A COADJUVANT IN FAST COMBAT OF PIMPLES APPEARANCE IN OILY AND BLEMISH PRONE SKIN FOR EARLY AND MEDIUM STAGES WITH VISIBLE RESULTS IN JUST 15 DAYS.